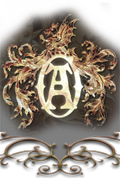 Welcome to the Order of Algoth.
At alchemygothic.com we hope to bring you the best of Alchemy Gothic art and products but we also wish to give our members a chance to contribute.
Currently registered members can upload images into two of our galleries (Alchemy & You, Alchemy Limelight) and chat using the Alchemy Gothic forum.  For supporting Alchemy Gothic and contributing to alchemygothic.com we have put together a points reward system.
What are points used for?
Earned points will give you access to a variety of special features.  Currently for every 50pts you have earned you will automatically have a chance to win a prize in our raffle.  In addition to this, should you earn enough points then you will gain access to coupon codes that can be used in our members store.
50pts = 1 entry in our website Raffles
100pts = 10% discount voucher for the Members Store. Further discounts are available as you hit higher totals.


Earning Points: MAXIMUM OF 10PTS PER DAY CAN BE EARNED.


| | | |
| --- | --- | --- |
| Points | Type | Details |
| 1 | Daily Login | Login to the site each day for 1pt |
| 1 | Read Article | Earn points by browsing the articles in this site. |
| 1 | Post Reply | Post an message in the Alchemy Gothic Forum. |
| 2 | New Topic | Start a new topic of conversation in the Alchemy Gothic Forum. |
| 5 | Add Image | Add an image to one of our user galleries.  For each published image you will receive 5pts.  Galleries can be found here. |
| 5 | User Invite | Use the invite a friend feature and should your friend register at alchemygothic.com then you will receive 5pts. |


Ranks:
Ranks are awarded as you earn more points.  In the future we may introduce features that are only available to higher ranking members.
The current user ranks available are listed below to see who has earned the most points and ranks click here;
| | | |
| --- | --- | --- |
| Title | Points | Icon |
| Archon | 100 | |
| Savant | 30 | |
| Acolyte | 11 | |
Last Updated on Tuesday, 28 February 2012 09:55